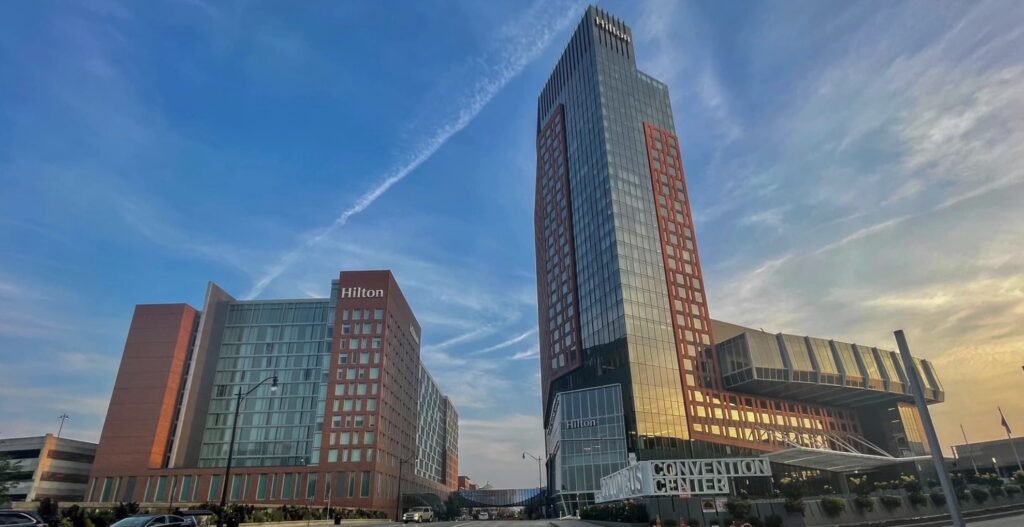 Hilton Columbus Downtown Hotel
Newly expanded to become Ohio's only 1,000-key hotel, Hilton Columbus Downtown is art-filled and beautifully unique. With a new 28-story tower immediately adjacent to the Convention Center, it anchors both sides of High Street and is within walking distance of more than 150 dining and entertainment venues in the Arena District and in the Short North Arts District. Consistently rated as one of the best Hiltons in the nation, the AAA Four-Diamond Hilton Columbus Downtown was the 2014, 2015, 2016 and 2021 recipient of the highly coveted Connie Award, Hilton brand's premier and most prestigious recognition for service and quality.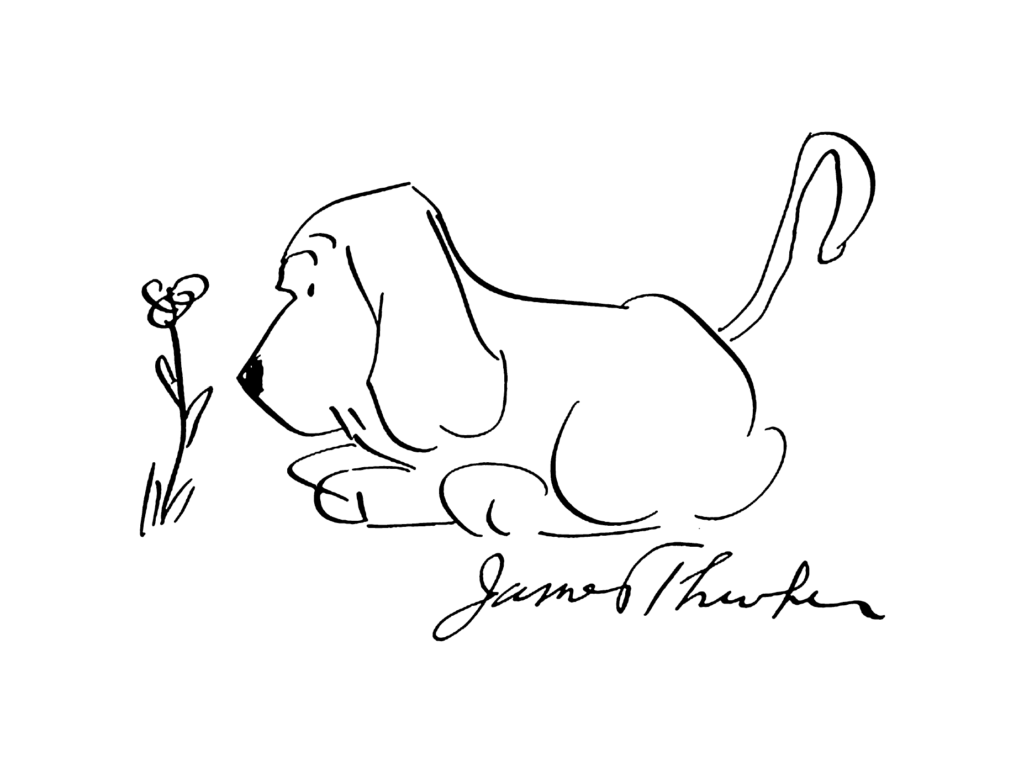 The new 402 tower continues the Hilton Columbus Downtown's groundbreaking commitment to local art with 233 new works by artists with central Ohio ties. Works range from simplicity — an iconic print by Columbus native James Thurber in most guest rooms — to a stunning, 50-ft. by 15-ft. piece behind the reception desk that marries art and technology: a series of embellished metal strips will form a stylized map of central Ohio, with flowing rivers and landmarks such as Ohio Stadium and the Columbus Zoo. Projection mapping essentially animates the map, with effects that can be customized to whatever is happening in town at the moment. In total there are 468 unique pieces of art within the expanded Hilton Columbus Downtown.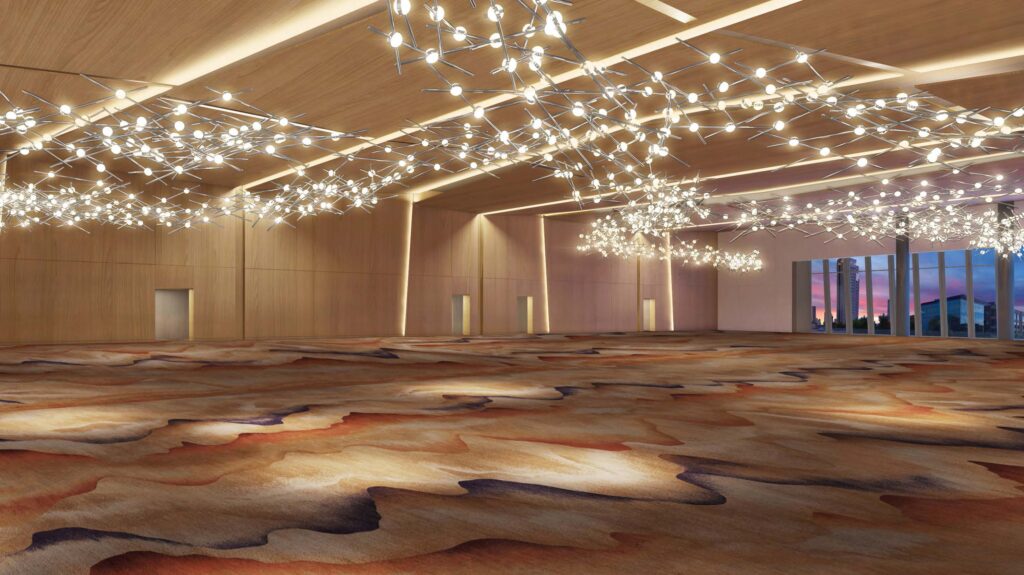 Event possibilities are endless with 75,000 sq. ft. of meeting space, including three ballrooms ranging from 10,000 to 15,000 sq. ft., ample prefunction space and 40 meeting and breakout rooms, with the ability to host up to 1,500 guests for a single event.  Plus, an enclosed skybridge connects the hotel to the Greater Columbus Convention Center, providing easy flow of traffic for guests attending events.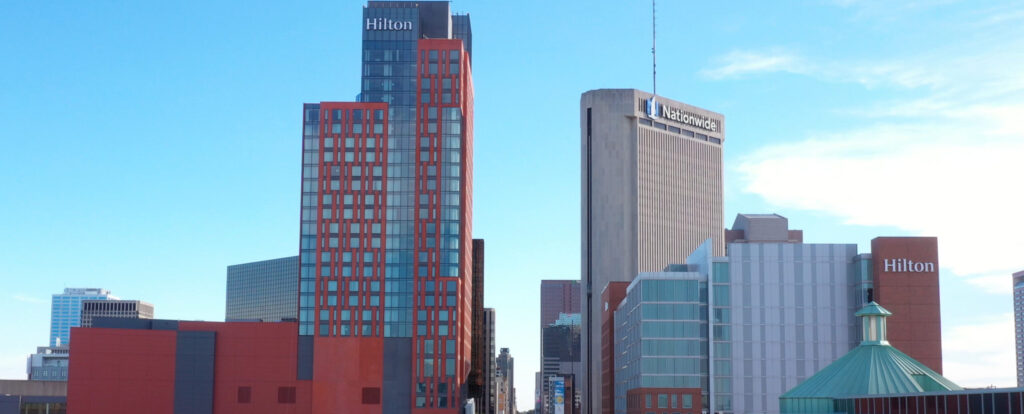 A unique and dazzling German-fabricated glass skyway connects the new Hilton 402 tower to the 401 tower via the Greater Columbus Convention Center.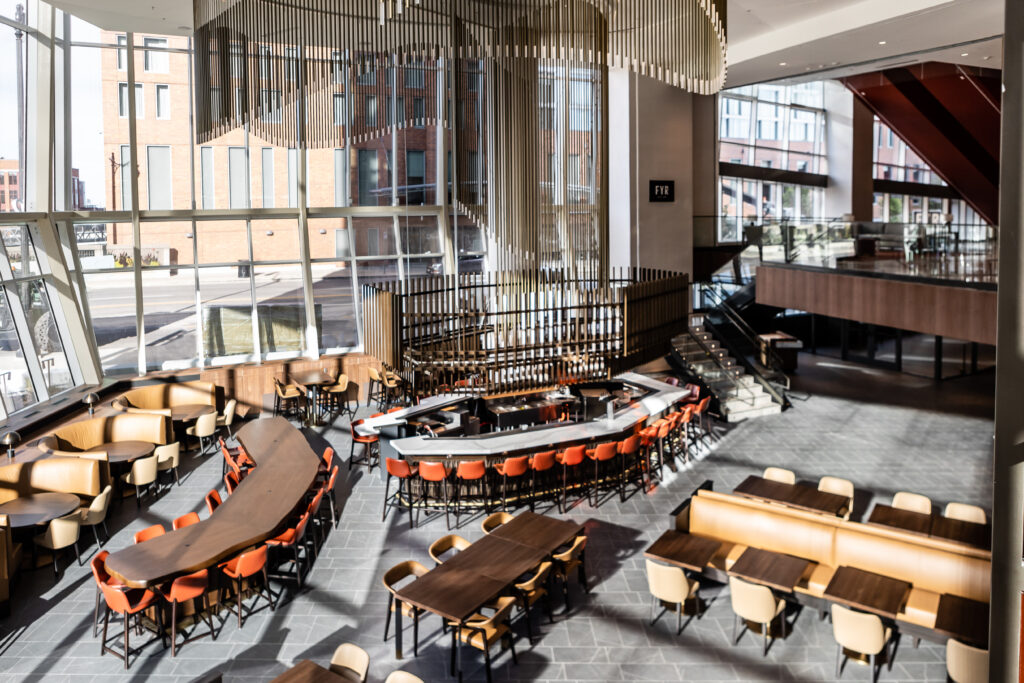 The new tower adds four distinctive new food and beverage options to downtown Columbus starting with the hotel's lobby bar, Spark, which features an all-day Midwest-driven menu with classic cocktails and local brews.  Coming in early October, the property will be unveiling FYR, their signature live fire restaurant, and later this fall, Stories on High, a rooftop lounge sitting 28 stories over High Street and The Market, a grab & go concept offering prepared salads, sandwiches and assorted beverages.

Subscribe to our newsletter

Subscribe to our newsletter

Plan your next event in Columbus
Shopping for an event site

If you're considering Columbus as an event site and have questions about hotels, attractions, transportation, or how to submit a proposal for your event, contact Experience Columbus.
Answers about the Greater Columbus Convention Center

If you've scheduled an event for the Greater Columbus Convention Center and have questions about scheduling, facilities or services, you can find the answers here.
Help with your sporting event

If you've scheduled a sporting event in Columbus, the Greater Columbus Sports Commission can provide additional information about sports facilities, hotels, transportation and area attractions. It can also help you promote your event.