September 9, 2019
GROUNDBREAKING BUILDS EXCITEMENT FOR 1,000-ROOM CONVENTION HOTEL
Hilton Columbus Downtown, owned by the Franklin County Convention Facilities Authority (CFA), broke ground Aug. 9 on a 28-story tower that will create the first 1,000-room convention hotel in Columbus.
The event, held in the hotel's Gallerie Bar & Bistro, drew dozens of guests to hear about the tower and what it will offer when it opens in early 2022.
On hand for the celebration was the executive committee of the American Society of Association Executives (ASAE), in town for the organization's annual meeting and exposition.
A 20-foot LED audiovisual wall constructed for the groundbreaking, showcased videos featuring a welcome from local dignitaries and the architectural and construction teams. The two other videos showcase the design of the new hotel and reveal the new open-fire restaurant concept.
But the highlight of the event was the unveiling of 3D fly-through technology of the new tower using virtual reality glasses. With smartphone technology and the QR code seen below, guests were transported three years into the future for a glimpse of the Hilton Tower.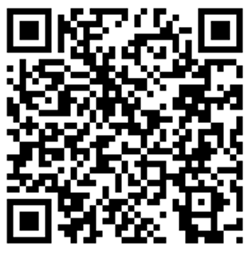 Rhett Ricart, CFA board treasurer, and Barbara Nicholson, board secretary, welcomed guests including Susan Robertson, interim president & CEO of ASAE and president of the ASAE Foundation.
They also introduced Cherokee Alexander and Corey Espenschied, two exemplary Hilton Columbus Downtown team members who had the honor of turning over a shovelful of dirt to mark the occasion.
Ricart likened the presence of ASAE — often called the "Super Bowl of conventions" — to the excitement of Christmas morning.
Nicholson explained the significance of a 1,000-room convention hotel, noting that it has been "a missing piece in our convention ecosystem. Its presence will change the skyline by creating the largest hotel in Ohio, and it will be a showplace for art and hospitality."
Designed by the architectural firm of Cooper Carry with interior design by Jeffrey Beers International, Hilton Columbus Downtown's tower expansion will add 463 guest rooms and 47,000 square feet of meeting space.
We invite you to also explore the Hilton using virtual reality. To ensure your cellphone is equipped, please follow the steps below. Enjoy your glimpse into the future!
Ensure your iPhone's virtual reality is enabled:
| | |
| --- | --- |
| Step 1: | Go to Settings and select Safari |
| Step 2: | Scroll down to Privacy & Security and allow Motion & Orientation Access |
| Step 3: | Open camera and frame QR code above, tap Safari prompt to view VR image |
If using an Android phone that does not natively scan QR codes with the camera, use a QR code reader:
| | |
| --- | --- |
| Step 1: | Go to Google Play and download "QR Code Reader" |
| Step 2: | Open the app and frame the QR code above, tap browser prompt to view VR image |