Wheels
Parking lots are emblematic of the contemporary American landscape. What was wilderness is compromised, surrounded by pavement. Our world is conditioned for speed and accessibility. The early American painters of the Hudson River School believed that exploring and depicting the vastness of the wilderness could evoke the sublime. A contemporary exploration of the American landscape suggests the termination of the artist as spiritual explorer. My paintings uphold tradition; yet negate it with gentle irony. The expedition has been reduced, beginning and ending within the scope of a parking lot.
Hilton Downtown
Visit Hilton Downtown Columbus.
Joseph Lombardo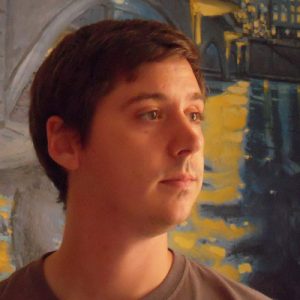 Joseph Lombardo is an accomplished plein air painter and painting instructor. He received a MFA in painting from Bowling Green State University and studied landscape painting at the Burren College of Art in Ireland. Lombardo is a two-time 'Best in Show' winner at the Ohio Plein Air Competition. He has served as Artist In Residence at Buffalo National River, Hot Springs National Park, and at the Glen Arbor Art Association. Lombardo teaches plein air painting workshops internationally.