Clematis #2
The "clickless" work I present here is created from a hand held wand scanner. I used to think there was a "decisive moment" when my photographer's eye and brain signaled my hand to press the shutter and capture a person's character. I believe scanner-as-camera allows me to have a new perspective on portraiture and gives my work overtones of mystery and intimacy. My foliage series is scanned also with a wand scanner. All my images are fused with encaustic, giving the portrait or landscape a more haunting and ephemeral quality.
Convention Center
Learn more about the Greater Columbus Convention Center.
Visit the Greater Columbus Convention Center Website.
Barb Vogel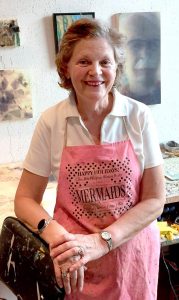 Barb grew up in Granville, Ohio, and resides in Columbus, Ohio. She earned a B.F.A. in painting and a M.F.A. in photography at The Ohio State University. Her photographs been exhibited in numerous galleries and museums, and in 2009 she received the Ohio Arts Council Individual Artists Award for her encaustic portrait work. In September of 2012 she was also awarded a residency at the Vermont Studio Center sponsored by the Ohio Arts Council. She is a member of Spring Street Studios, an artist cooperative in Columbus, the Ohio Art League and CAW (Creative Arts of Women).