Rolliing Fields
When people learn that the artwork they're viewing is made entirely from pigmented beeswax it usually stops them in their tracks. They look closer. They study it. They explore the work a bit more. My encaustic landscapes are a stylized representation of reality. Painted from images in my mind. I hope these beautiful images also stop you and make you not only think about the work but also think about what it represents. The fields and plains of our beautiful country, there for you to stop, look closer, explore and enjoy.
Hilton Downtown
Visit Hilton Downtown Columbus.
Chris Rankin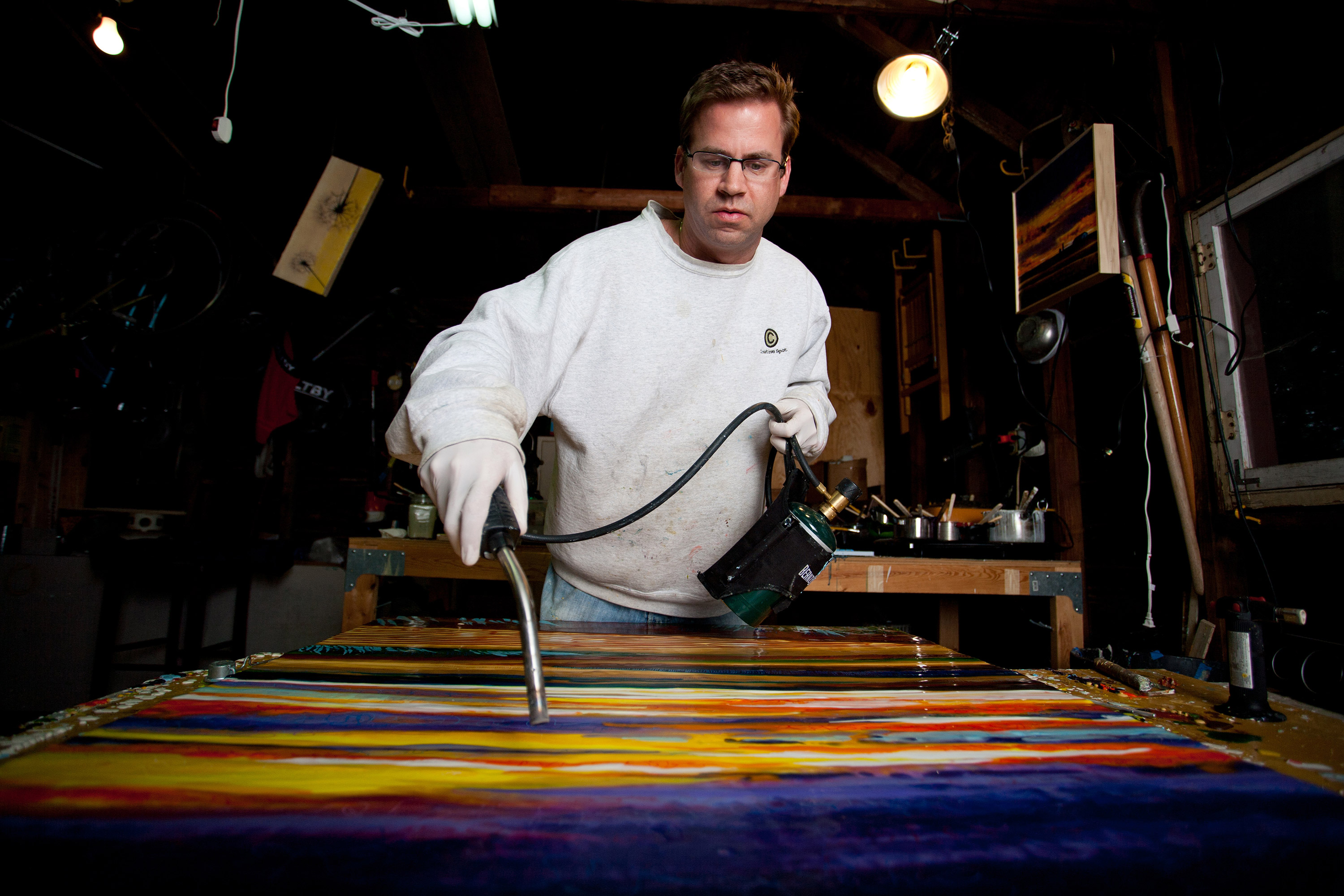 Talent, complimented by a passion to create, sums up Chris Rankin. He has been creating "stuff" since his parents first gave him the various tools to do so. As a child, anything he could get his hands on was fair game to be part of his creative exploration, whether it was balsa wood, a crayon or oil pastel. If it could be drawn, painted, nailed, molded or glued together something fun was going to be created. Fifteen years later, Chris moves to Columbus, Ohio and gets a BFA from the Columbus College of Art and Design. And now, 20 years after CCAD, Chris finds himself interested in two new tools as part of his creativity: beeswax and fire. Two of the most natural substances know to man. Encaustic, as it's called, dates back to early Egyptian times and is one of the oldest forms of painting know to exist. The technical definition of encaustic is: using pigments mixed with hot wax that are burned in as an inlay. About eleven years ago Chris started exploring the encaustic medium, enjoying the versatility and freedom to work in a variety of styles and techniques. Chris finds encaustic a great medium to work with because he's exposing this unique medium to people for the first time in most cases. His recent works are stylized landscapes representational of the beautiful rolling fields that surround our region. Chris is an active participant in the thriving arts community of Central Ohio, served on the Board of Directors for the Ohio Art League for three years and displays his work throughout Central Ohio.