Planters Peanuts
With the signage industry rapidly declining in the last few decades, many cities across America are now concerned with preserving and restoring their historic neon signs. I feel that I contribute to the conservation of these vintage signs by documenting them on two-dimensional surfaces using oil paint as my medium. I aspire not only to capture the sometimes glowing glass tubing as a source of identifying what a building once was and/or continues to be, but I want to show that these signs are truly works of art unto themselves. Observing the finest of detail, I recreate the way the sunlight glistens off of a curve, or the range of transparencies the shadows of the tubing cast onto the painted letters of the surface below. These works of art are a continuation of my series of oil paintings entitled "Looking Up", in which I hope to reveal a thing of beauty in an object that sits dormant against a boundless sky and is often only seen from a distance. With so much that gets overlooked in our everyday lives, it is important that we stop and preserve the treasures we already possess.
Hilton Downtown
Visit Hilton Downtown Columbus.
Amanda Cook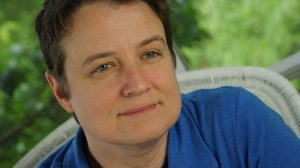 Amanda Hope Cook was born in Nashville, Tennessee in 1975. Highly influenced by her father, artist Marion B. Cook, Amanda spent her early years immersed in learning the disciplines of painting and drawing. Upon graduating high school in 1994, Amanda was awarded a scholarship to the Columbus College of Art & Design in Columbus, Ohio and went on to earn a Bachelor of Fine Arts degree from the college in 1999. Amanda works as a self-employed, full-time Fine Artist. Her representational oil paintings depict landmark neon signs during various times of day, seasons, and weather. Amanda is a prolific artist and life-time student of art. When she is not painting neon signs in oil paint, she is doing studies of landscapes and still-lifes in various mediums, such as gouache and pencil, to improve and hone her skills as a visual artist.