Moon Maker
Moon Maker is part of my Pathway and Intersection series of abstract paintings. In this painting I was exploring the enormous energy and forces released as a meteor collides with the molten surface of the Earth to release our wondrous Moon.
Convention Center
Learn more about the Greater Columbus Convention Center.
Visit the Greater Columbus Convention Center Website.
Bernard Palchick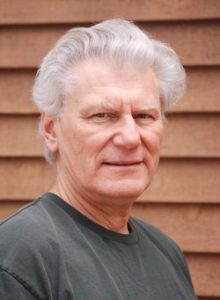 Bernard Palchick began his career as a professor of art at Kalamazoo College in Kalamazoo, MI.  Over the next few decades, he served in various positions there, including Chair of the Art Department, Acting Provost, and Acting President. During his career he has exhibited extensively, including shows at the Springfield (MO) Art Museum, Kalamzoo College, and at numerous private galleries across the US.  He is represented in numerous public and private collections, including that of A T & T in Chicago, IL and the Kalamazoo Institute of Art.  Now a resident of the Columbus area, Mr. Palchick works full time as an artist.  He is both a gifted watercolorist and oil painter and works in a variety of styles, including abstraction and magic realism.