Ori-Kume #17
This is the 17th in this series, named for the two shibori stitches used to create the patterns, ori-nui and mokume. I use these stitches to create texture as well as pattern. Ori-Kume #17 began as a sketch which was enlarged and transferred to white cloth. I use organic cotton sateen for its sheen. Fiber reactive dyes were painted on multiple times to achieve the color.
Hilton Downtown
Visit Hilton Downtown Columbus.
Sue Cavanaugh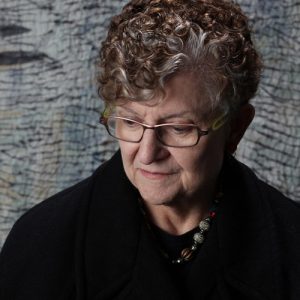 Cavanaugh works by hand with cloth, cord, dye, paint and occasionally paper, wood and wire.  She does this by hand and without assistants.  Her work has been seen in national and international exhibits at the Columbus Museum of Art, Oceanside Museum of Art, Springfield Museum of Art (Ohio), Ross Museum of Art, Johnson-Humrickhouse Museum of Art, Ohio Craft Museum and Zanesville Museum of Art.  Awards include a 2016 Greater Columbus Arts Council fellowship, Best of Show, Shibori Cut Loose exhibit, Textile Center, Minneapolis; Ruth Lantz Fiber Award; Janet Long Memorial Award for Excellence in Fiber; Ohio Arts Council Professional Award; and the Lynn Goodwin Borgman Award for Surface Design.