Redeye
Redeye is an aerial view celebrating the shapes and textures of Italian Village, the Short North, Goodale Park, and the Olentangy River. I re-imagined these shapes as one would see them when flying west over Columbus. The shapes in the lower half of the triptych are smooth and geometric as they represent structured streets and neighborhoods. The shapes become more organic in the upper half while the wax becomes highly textured to represent more natural areas as the land moves towards the river, its flood plain, and tree population
Convention Center
Learn more about the Greater Columbus Convention Center.
Visit the Greater Columbus Convention Center Website.
Kim Covell Maurer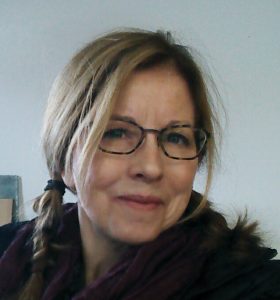 I am a Columbus based artist working in the medium of encaustic: a wax based method of painting that dates back to ancient Greece. I received a BAE from The Ohio State University and an MAE with a studio emphasis from the Art Academy of Cincinnati. I was awarded a 2010 residency with TICA – Teachers in Contemporary Art – at The Art Institute of Chicago and a 2014 month residency with Vermont Studio Center. I have exhibited in Athens, Columbus, Cincinnati, and Chicago. My art and work keep me moving through Columbus each day: I live in Clintonville, teach in Worthington, maintain a studio on the north end, and am represented by Studios on High Gallery in the Short North Arts District.