Junk Drawer Collage
Artists Julia Guerra, Chloe Lillash and David Cooke created this artwork for the Hilton Columbus Downtown Business Center. The metaphor is to say everyone has that one drawer in their homes where you throw everything, including the coins, money, stamps, and postcards form travels. This is our interpretation of that kind of a drawer and the process used was to collage various memories. The three students from the Columbus College of Art and Design (CCAD) have created imaginary symbols associated with business commerce and travel to create this collaborative mural. The viewer will see imaginary international currency, coins, postage stamps, and passport stamps. The majority of the colors used in the work were based on the four universal colors of international currency: pale red, green, light blue and a cream-colored neutral. The mural combines etching, silkscreen and linoleum printing techniques, with hand-coloring acrylic and watercolor embellishments. Four hand-made metallic papers were used to give a reflective sparkle associated with coins.
Hilton Downtown
Visit Hilton Downtown Columbus.
David F. Cooke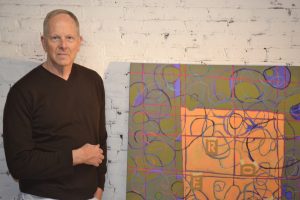 David Cooke lives and works here in Columbus. David earned a Bachelor of Arts Degree form Hanover College and is a Principal of Design Collective Incorporated which provides design services for corporate offices, educational institutions, hospitality, healthcare, and retail users.