Parisian Juggler
I believe that creating something beautiful that did not exist before is the most valid thing that I can do. My assemblages represent my search for new ways to do this. The Parisian Juggler is part of that search.
I became interested in doing jugglers, in part, because I think they serve as a metaphor for a common human problem, trying to manage several challenges simultaneously.
I am also interested in exploring the visual possibilities of jugglers: motion, rhythm, color, texture, pattern, shape, gesture. I try to combine these elements in a way that conveys meaning. I am more interested in a hint at something than in precise representation. I am trying to make suggestions to the viewer. I want the Parisian Juggler to be recognizable and to make sense on an emotional level. I want him to be beautiful, singular, dignified and strong, but at the same time a bit humorous.
The Parisian Juggler was assembled from pieces of wood. Some pieces were found and used as they were found, without application of additional paint, for example, his pants. Some pieces I painted myself: the balls, shirt, arms and socks. The pieces of wood are connected to form the finished work using brackets, screws, glue and nails. I enter the process of assembling the pieces of wood with an open mind and a general idea of what I want to do but without any specific notion of what the end result will be. I begin by laying the wood out on the floor. I use the shapes I find or I cut the wood to form the shapes I choose. I then arrange and rearrange the forms until something begins to emerge. As it emerges I pay attention and make further changes, adjustments, additions and subtractions. I am always on the lookout for propitious accidents. When something unexpected happens that I like, and that works, I will incorporate it even if it means a major change of direction. As a result there is an unpredictability that makes this process exciting and delightful. There is play and fun in this manipulation of materials and exploitation of the unforeseen. There is also constant conscious decision making and risk taking, and with it frequent failure, which is not so much fun, but without the willingness to take risk and to fail there can be no ultimate success. It is a bit mysterious. Paris has lots of street performers: musicians, mimes, dancers and jugglers. I can imagine the Parisian Juggler on a street corner with a crowd gathered round.
Convention Center
Learn more about the Greater Columbus Convention Center.
Visit the Greater Columbus Convention Center Website.
Tamara Jaeger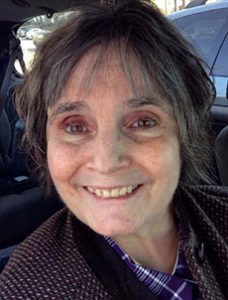 Tamara Jaeger was born and raised in Columbus, Ohio. She lived in Switzerland and graduated from Le Rosey High School, a Swiss International boarding school. She attended Sarah Lawrence College in Bronxville,new York where she received a BA. While living in Paris, she began making handmade paper collages. She moved back to Columbus in 1982 to earn her MFA from the Ohio State University.