Learning to Co Exist 3
I'm interested in contradiction, control, humor, drama, and being sensibly ridiculous. Putting a round peg in a square hole. This work exists somewhere between painting, collage, and sculpture. Each piece combines the compulsive act of mark making with an analytical desire for order. They function as the result of anecdotal and sometimes absurd organizational systems. I operate under loose guidelines generating layers of paint that intentionally differ in color, shape, texture, surface. The adjacent layers can create rich dialogue or reject one another based on color relationships, shape, or tactility. Each group competes for attention resulting is a potent, confrontational surface.
Convention Center
Learn more about the Greater Columbus Convention Center.
Visit the Greater Columbus Convention Center Website.
Andrew Ina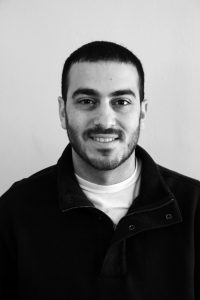 Andrew is a visual artist and filmmaker working in Columbus, Ohio. He received his Bachelor in Fine Art from the Columbus College of Art and Design with a focus in painting and completed his Masters at the Glasgow School of Art in Scotland. He has received awards and recognition in both fine art and film including an Individual Artist Fellowship from the Greater Columbus Arts Council in 2012. His films, most recently the short documentary "Tiny Out Loud", have screened nationally in film festivals. He's also earned multiple Emmy Awards for his work on the PBS series "Broad and High". In addition he serves as board president of the Ohio Art League, a 106 year old member-based non-profit organization formed by artists for the mutual benefit of artists. He is currently a video Producer/Director at WOSU TV and working out of his studio at 400 West Rich in Franklinton.