Honey, can we talk?
Convention Center
Learn more about the Greater Columbus Convention Center.
Visit the Greater Columbus Convention Center Website.
Paul Emory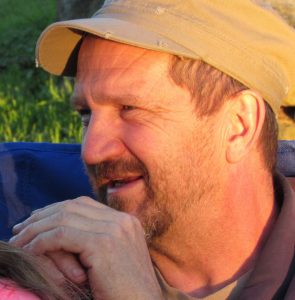 Paul Emory paints places he has never really been and people he has never met. He begins each painting with a real place and with someone who lives in or occupies the space. These places are often modest living rooms, bedrooms, automobile interiors or front yards. The people in his paintings are the people from his daily life. The animals that share their lives are often included. However, each place Imageand each human or animal character is transformed and reconstructed through the physical and creative act of painting. Emory calls this process 'deconstruction,' and it consists of whimsically rearranging furniture, walls, colors and faces. Images of people are no longer portraits. This artist does not paint what is, but, instead, energetically paints what could be. Emory amends their perspective too, often seeing things from above and pulling the elements close to the surface of the painting. The artist enjoys telling stories in his paintings and uses this process to call attention to what is happening. He often makes us smile. Paul grew up in a little town near Zanesville called White Cottage in a house with several brothers and sisters shod in cheap tennis shoes and frequently threatened with being sent 'to the children's home'. Paul presently lives in an old (very old) farmhouse on the outskirts of Zanesville. The house, it's outbuildings, the animals, the garden, all of it really, ends up in most of his paintings, that, and an endless stream of sometimes anxiety ridden, but always true to life, childhood memories. Paul also maintains an in town studio, a rented out gallery, and several other downtown buildings which he has single-handedly rehabilitated. he is a key member of the formation of the Downtown Zanesville Artists Colony. he has a precious little girl named Ruby with Nora Daniel. Paul Emory received his BFA at the Ringling School of Art and Design in Sarasota, Florida, studied at the Pratt Institute in Brooklyn, and was awarded his MFA from Ohio University, Athens. His paintings have been included in museum and gallery exhibitions all over Ohio, West Virginia and New York. Previously granted Ohio Arts Council Individual Art Fellowships in 1991 and 2001, in 2005 he was awarded an Ohio Arts Council Summer Residency Fellowship which he spent in Provinctown, Massachusetts. His work has most recently been included in the Permanent Collection of the Supreme Court of Ohio and The Limited Corporation in Columbus, Ohio.
Education
1987 MFA, Ohio University
1982 Pratt Institute
1981 BFA, Ringling School of Art & Design