Under the Arches
The emotion of a single moment in time is what motivates Michael Guinane to paint. Whether it be a still and quiet moment of an individual, or capturing the total environment created by multiple figures in one place, his work allows you to see deeper into the subject. Michael paints to create an atmosphere for the viewer to feel. Whether it be a moment in history or the artist's personal experience, a quiet winter night in the park or a busy city street, his work captures the feeling and mood one gets from being in a certain place or time. Much of this can be found in the artist's view of the city of Columbus and its iconic arches. In the same way that people moving through the city will stand out from the city surrounding them, there is still a connection between both the figure and their environment as they become one.
Convention Center
Learn more about the Greater Columbus Convention Center.
Visit the Greater Columbus Convention Center Website.
Michael Guinane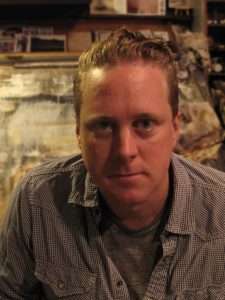 After graduating from the Columbus College of Art and Design with a BFA in illustration, Michael continues to paint in Columbus finding inspiration from the city and from travels around the country and world. He shows in galleries, public venues and does privately commissioned paintings for collectors.