Mill at Fredericktown 1
The "mill" is a charming accretion of structures built in the mid-nineteenth century in Fredericktown OH. To be accurate, it is a grain elevator built on the site of an earlier (1807) mill. The grain elevator replaced the mill after the railroad came to Fredericktown in 1853. There was also a depot on the site – now gone, and the railroad has become a rails to trails bike trail which connects the town to Belleville to the north and Mount Vernon to the south.
Convention Center
Learn more about the Greater Columbus Convention Center.
Visit the Greater Columbus Convention Center Website.
Ruth M Gless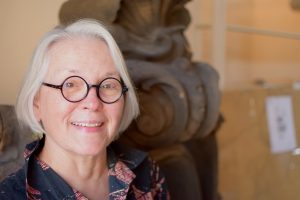 Ruth is an architect. As a kid she was always building and drawing and making – wood, fabric, cardboard, paper and pencil. At some point on the way to adulthood, she fell in love with the language of words and became a high school English teacher. Now she is an architect who paints. Architecture and painting are simply other forms of language, but they are also ways of seeing. Ruth painted long ago before she studied architecture, and as an architect she drew constantly, but did not paint much. Some years ago her partner Frank Elmer took up painting, while she explored other media. Since his death in 2012, she revisited painting and finds that she is a much better painter than she was years ago. She believes that this is because she has learned to see. As an architect and a painter, Ruth celebrates space, especially urban space, and she believes that her commitment to community stems from that focus. She is active in her neighborhood, has served as a member of the Italian Village Commission, and as past Chair of 1000 Friends of Central Ohio. She is past Chair of the Board of the Columbus Design Center, 2011 President of the Columbus Chapter of the American Institute of Architects, and 2014 President of the Center for Architecture and Design.