Columbus Zoo
"Columbus Zoo" is a very special commissioned work that was painted by Laine Bachman specifically for the Columbus Convention Center. The piece is inspired by one of Columbus' greatest treasures, the Columbus Zoo. In the vast, colorful scene, all of the animals from the Columbus Zoo's iconic exhibits roam together.
These works expose unique environments in which I explore and pay homage to various forms of life I find fascinating and mysterious in nature. I use vast landscapes to showcase these life forms, showing the spaces between and the surfaces above and below. The worlds I create are hidden and untouched by man, and give the viewer a glimpse into the secret lives of their peculiar inhabitants. There are many niches with animals hiding within the work that might not be noticed at first glance. Whether it's a desert, forest, or coral reef I include a variety of plants and animals that could reside in those realms. Through the process of creating these intricate realms, I've become more instinctive and intuitive in the way I approach my paintings, almost as if this new body of work is my "Second Nature."
Convention Center
Learn more about the Greater Columbus Convention Center.
Visit the Greater Columbus Convention Center Website.
Laine Bachman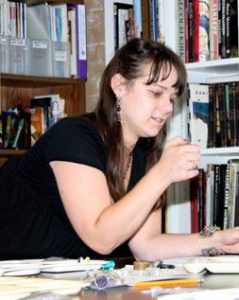 Laine Bachman earned her degree in Fine Arts at the Columbus College of Art and Design in 1997. Upon graduating, she stayed in Columbus and has continued as a full-time artist for the past 19 years. Throughout the years Laine has had work included in several juried exhibitions and group shows at OAL, the Riffe Gallery, The Concourse Gallery, Carnegie Gallery, and Art Palm Beach, and her work has garnered a number of awards and is in many private and public collections.