Local Lingo
Convention Center
Learn more about the Greater Columbus Convention Center.
Visit the Greater Columbus Convention Center Website.
Laurie Y Clements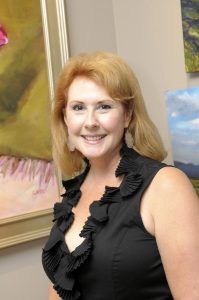 Laurie Clements, a 1980 graduate of the Columbus College of Art and Design, has been painting most of her life. In the past 12 years she has made it a nearly full-time endeavor.
In 2006, Laurie was diagnosed with breast cancer. The episode reignited her passion for the role her artwork held in her life, ultimately inspiring her to devote herself to her own painting and help others who had cancer. She founded Locks and a Lift, a silent auction fund-raiser, based solely from the proceeds of the sales of her artwork, to benefit Ohio Health's Cancer Care Center and specifically to support the needs of other women during their treatment there. Since 2008, the sale of her artwork has raised more than $80,000 for women undergoing treatment for breast cancer and leukemia through her charity, her goal is to reach $100,000 with a final event. She has been proud to donate many pieces for other charitable events as well.
Now, officially a "cancer survivor," Laurie often states how fortunate she has been in life to have had that experience that ultimately reinvigorated her passion for her art. Her artwork, depicting landscapes (from rural Ohio to many corners of the world), florals, Columbus' neighborhood scenes, canines and subjects of all variety expected and unexpected, have come to occupy many lovely homes, professional buildings and restaurants throughout Central Ohio and beyond.
A native of Newark, Ohio, Laurie spent her earlier career as Director of Admissions and later as an instructor at CCAD, teaching there for 10 years. More recently, she also was the 2013 Artist in Residence with the New Albany Symphony.
Laurie and her husband Tom live in Westerville and have two grown children, Andrew and Chelsea. Tom and Laurie are active in several charitable endeavors, and proud to call Central Ohio their home.