Select Spoken From the Heart
Convention Center
Learn more about the Greater Columbus Convention Center.
Visit the Greater Columbus Convention Center Website.
Queen E. Brooks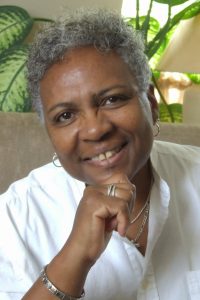 Queen Brooks holds both a B.F.A. and M.F.A. from the Ohio State University. She is the recipient of several awards, the most recent being the Ohioana Career Award 2008, the Lila Wallace, Reader's Digest International Artist Award 1993 which won her a three month residency in the French port city of Abidjan in the Republic of the Ivory Coast, West Africa. Brooks is listed in the African American profiles of the HistoryMakers located in the permanent collection of the Library of Congress. Her works are in numerous private collections throughout the world and in held in the collections of the Columbus Museum of Art, the Hilton, Ohio Dominican and Otterbein Universities as well as the Kings Art Complex, Columbus, OH. She created the entrance for Kwanza Playground, Ohio's first African American themed playground. A retired adjunct art professor, Brooks now heads an art afterschool and summer program.