As We Are
The sculpture is intended to be fun and engaging but also makes open-ended statements revealed through observation and interaction. The sculpture addresses the relationship between self and representation of self, asking the subject of the portrait to reconsider themselves through the magnification of their head and facial features.
Each portrait is roughly seventeen times the size of the person represented. Eyes will be as big as dinner plates. Through magnification, the sculpture will re-contextualize each participant and ask all who see their portrait to consider who that person is and the life they lead no matter their age, gender, or culture.
Convention Center
Learn more about the Greater Columbus Convention Center.
Visit the Greater Columbus Convention Center Website.
Matthew Mohr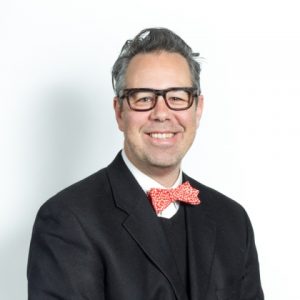 Matthew Mohr teaches senior advertising and graphic design, portfolio, and graduate seminar. An e-commerce designer and manager, Mohr's professional career included a decade in New York with clients such as Samsung, Newsweek, NASA, Norma Kamali and Bloomingdale's. He has presented at SIGGRAPH and was featured on RES magazine's 2004 Who's Now/Who's Next list.
In addition to teaching, Mohr currently co-owns Wonder-Shirts, a T-shirt company dedicated to encouraging children to read. BFA in design, Bowling Green State University, 1990; MFA in design and technology, Parsons New School for Design, 2003.