Art Rocks!! #5
These rock strata are not placed by natural forces – but by an imaginary force intrigued by the rhythm created when like shapes are placed next to one another, then contrasted with unlike shapes. Metallic paints coexist with these imaginary rocks as precious metals exist with real rocks and soil. Some rocks look to be "sun-kissed". Are these rocks nestled under, or above the ground? Ancient and enduring rocks remind us that nature is precious, that each rock is unique, just as we are each precious and unique. Rock studies are familiar sources for imagery and playful rendition by the artist.
Hilton Downtown
Visit Hilton Downtown Columbus.
Jeanie Coy Auseon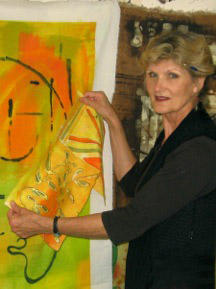 Jeanie was a "kid" artist and has made art throughout her life. She earned her undergraduate and master degrees in Education from Truman University in Missouri and received her Ph.D. in Art Education from The Ohio State University. She is represented by Studios on High Gallery located in the Short North.