Tepals Fronds Sepals IV
The numerosity of marks in textile pattern beckoned me to create the "Tepals|Fronds|Sepals" series. Each brushstroke suggests small botanical components interlocking to create a larger complex system, which may be interpreted as landscape or simply decorative pattern. Marks on the canvas weave through space, with vibrant potency or quiet dissipation. The paintings distort the line between mystery and elucidation, ephemeral and permanence, phantasm and reality.
Convention Center
Learn more about the Greater Columbus Convention Center.
Visit the Greater Columbus Convention Center Website.
Katherine Adkins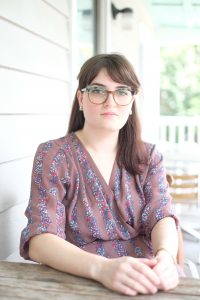 I am a painter who creates abstracted suggestions of place and atmosphere. My paintings are inspired by botany, arboretum, geometry, biology and Appalachian textile craft. I received my BFA from Columbus College of Art and Design in 2011. During my time in Columbus, Ohio, I have served the arts community through teaching and curating.