Columbus Signs
My oil paintings are typically presented in a traditional format and depict scenes containing neon signs. However, the paintings include the atmosphere which the signs stand. In the series of five paintings created for the Greater Columbus Convention Center, I have taken each sign out of its atmosphere, and consequently out the frame of a four-sided panel. I captured the reference photographs around noon-time, so that the painted cast shadows of the painted tubing would fall at the same angle as the actual cast shadow of the completed piece when displayed. In doing so, the illusion is realized as the paintings are displayed for viewing.
Convention Center
Learn more about the Greater Columbus Convention Center.
Visit the Greater Columbus Convention Center Website.
Amanda Cook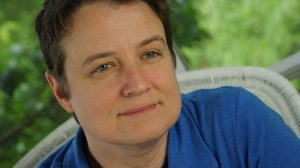 Amanda Hope Cook was born in Nashville, Tennessee in 1975. Highly influenced by her father, artist Marion B. Cook, Amanda spent her early years immersed in learning the disciplines of painting and drawing. Upon graduating high school in 1994, Amanda was awarded a scholarship to the Columbus College of Art & Design in Columbus, Ohio and went on to earn a Bachelor of Fine Arts degree from the college in 1999. Amanda works as a self-employed, full-time Fine Artist. Her representational oil paintings depict landmark neon signs during various times of day, seasons, and weather. Amanda is a prolific artist and life-time student of art. When she is not painting neon signs in oil paint, she is doing studies of landscapes and still-lifes in various mediums, such as gouache and pencil, to improve and hone her skills as a visual artist.