Cosmos #1
Photograph fused with Encaustic.
Hilton Downtown
Visit Hilton Downtown Columbus.
Barbara Vogel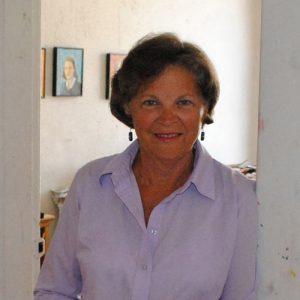 Cosmos is defined as the complex universe in its organized and harmonious state. It's the antithesis of chaos. On a bright, sunny day, when the natural world seemed to reflect this organized harmony, my life was in chaos. The exhaustion of caring for elderly parents and other family members with end-stage diseases, along with the sense of loss from those who had died, had cast a depression over my whole being. Although my original intention was to document the seasons including sunny days in my flower garden, I was attracted to my cosmos in the fall on cloudy days. To capture that sense of my world in conflict with the natural world, I began a few years ago photographing flowers in natural light, intentionally taking the images out-of-focus with a shallow depth of field, using a medium format Hasselblad camera. I ignored the technical nuances during shooting. All images were shot with traditional color negative film, scanned, printed as a digital Giclee print, mounted on board, and then fused with wax. The color shifts are not a result of digital manipulation; rather they result from the purposeful use of out-dated film. The technique for this wax process came as I was working on encaustic collages and painted a photograph with wax. I liked the effect and this technique, both of which reflected the diffusion I was experiencing in life. As I continued to capture stormy day images in my flower garden, I began to feel a sense of connection with the cosmos and see the beauty of the cosmos in decline, the array of colors and surfaces, and the abstraction this simple subject provided me. These images progressed from a more definitive recording of flowers to more obscure images.  In photography, as in life, we spend a great amount of personal energy trying to get the right perspective, to pull things into focus so that life is framed the way we want it to be. But sometimes life becomes a blur. We are forced to accept that life is fragile. Regardless of how much we thought we were in control, the passage of time gains the upper hand. This spring I have planted pink, white, and purple cosmos in my garden and I intend to explore the life of the cosmos again this fall with my camera and wax.